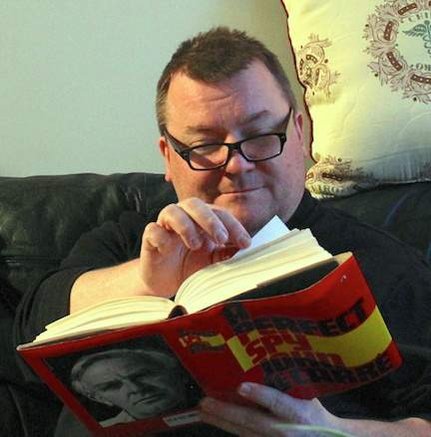 Edwin Janzen is a visual artist, writer, and editor. His art practice, peripatetic and freewheeling, is inspired by the history and culture of the Cold War and animated by the period's exuberant popular culture and utopian visions. Its vivid aesthetic vocabularies play throughout his projects.

Rather than focus on the well-trodden ideological differences separating capitalism and communism, Edwin's interest is in what East and West had in common—things that were, in their way, no less ideological: the space race and fetishization of technology, valorization of sport, leisure, and tourism, obsession with cinema and the moving image, and a limitless appetite for consumer electronic devices. Edwin is also intrigued by how these two industrialized "modern civilizations" also acted, in differing modes, as conduits or filters for the imperialist and colonialist projects that preceded and followed them.
Edwin's works salute the cheery confidence of Cold War-era modernist utopian visions—the pursuit of prosperity and the good life—and the depreciation of those visions. They cling to humour and satire like lifesavers, ambivalently, as though anticipating the next dystopia: awfully new, newly awful.
Born in Winnipeg, Edwin lives in Montreal. He works in installation, digital printmaking, video, drawing, collage, artist books, and other media. Edwin completed an MFA at the University of Ottawa in 2010. He holds bachelor's degrees in studio art (Concordia University, 2008) and Byzantine history (University of Manitoba, 1993).
Edwin is published in Canadian Art, Border Crossings, Espace art actuel, and other titles, and has written and edited for dozens of individual and institutional clients. He is currently in the grip of a somewhat obsessive fan-writing project focused on The Wire, HBO's classic critical drama on the neoliberal American city.